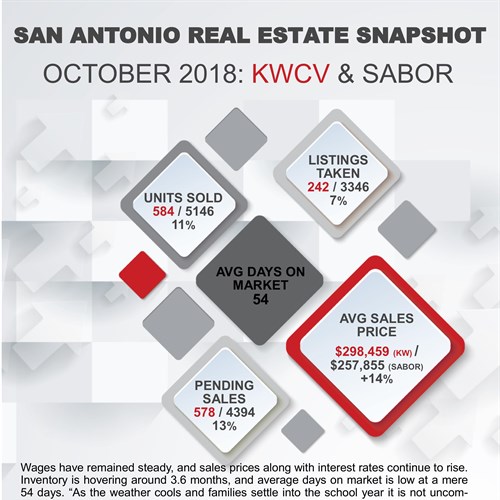 Average days on market has stayed relatively stagnant for a couple of months after the slight tick up from the summer rush. This is pretty normal for the September-October time frame in San Antonio, followed by an anticipation of a busier winter season. Winter is a great time of year for home sellers because there tends to be less inventory on the market to compete with, and yet there are still a high number of buyers looking to move before the next school semester starts. This is pretty consistent with the home buyer inquiries our team has received as well as our experience over the past few years at the end of the year.
The average price point throughout the city dropped a little from $267,661 to $257,855, which is in line with recent annual trends for this period. Our listing team shares with prospective home sellers that the September-October selling time frame yields on average 4% less in a home sale than during peak selling times. This is part of the basic seasonal cycle of the housing market.
Our market still shows signs of a shift. Rising interest rates continue to push stress boundaries for both buyers and sellers as a higher interest rate yields a higher monthly payment, and thus lowers the purchasing power for the home buyer. When that happens across the board–such as the HUGE shift we've seen from low 3% interest rates in 2016 up to the 5% interest rates (still historically low!!) we see now–that forces increasing home prices to stall out and potentially decrease. This is good overall for our market because it means that the market is correcting itself; rapidly rising home prices are unsustainable and lead to the creation of a housing market bubble. So if you are currently or have recently purchased or sold a property and had to end up negotiating on the appraisal, you are not alone. Push back from appraisers is a normal part of the market correction, and it means that they're doing their part to keep our housing economy stable.
We still have a growing population in San Antonio. At 33 new people Every. Single. Day. we are the FASTEST growing city population in the country, which is astounding and exciting at the same time. A growing population with a stable housing market means great things for our city.
If you have questions about what the housing market update means for your particular situation, please don't hesitate to reach out.
Karina Gafford
Lead Agent
Check back each month to get an understanding of what is going on in the housing market in San Antonio.
Got specific questions? Email me at karina@milhousingnetwork.com